ESG review
We are embedding ESG practices into our daily business activities so that we can proactively manage our impacts on people and planet, beyond compliance requirements.
This means investing in our employees; cultivating a diverse and inclusive work environment; serving our clients, principals and customers exceptionally and transparently; strengthening and investing in the communities in which we live and work; upholding human rights in the value chain; and promoting environmental stewardship. This underpins our industry, market and country legitimacy, and reputation as a trusted partner.
Our ESG strategy
Our ESG strategy furthers our ESG journey, with defined objectives against which we will measure our performance, and new prioritised targets for climate change mitigation. Our ESG reporting, participation in widely recognised ESG assessments and engagement with stakeholders helps us understand how external stakeholders are assessing our risks and performance. We are working to extend and integrate robust ESG processes and practices across the group and into strategic and daily operational decision making and business practice to ensure ESG is effectively managed as a business fundamental.
Formulation of the ESG strategy.
Undertook socioeconomic impact assessment studies for Nigeria and South Africa.
Participated in ESG thought leadership with National Business Initiative (NBI) and the CFO Forum.
Strategic partner of the World Economic Forum New Champions Chapter, South Africa
CEO Champion of the NBI Just Transition Pathways project.
ESG ratings include EcoVadis, CDP, FTSE4Good, ISS, IRAS and Risk Insights ESG GPS.
Alignment of ESG impacts with UN SDGs.
Won IRAS transport sector award and nominated for IRMSA ESG award.
Expanded assurance to 20 non-financial indicators.
Our ESG strategy
ESG approach
Creating sustainable value for our key stakeholders through integrating ESG to support people, planet and profit
Our guiding principles
We are a purpose-driven organisation that actively seeks opportunities and partnerships to create value for all our key stakeholder groups.
We continually seek to improve our performance in the pursuit of zero harm to people and the planet.
Our leadership visibly demonstrates a commitment to ESG.
We balance impacts on people, planet and profit by integrating ESG practices into our daily business activities and decision-making processes.
We proactively incorporate the principles of the UN Global Compact, UN SDGs, Women Empowerment Principles and other relevant global frameworks in our ESG practices.
We comply with applicable legal requirements in all countries in which we operate.
We respect human rights and engage our stakeholders respectfully and frankly, seeking their feedback.
We seek 'go green' opportunities to reduce our impact on the environment and climate change.
We proactively invest in enhancing and developing our communities.
Our ESG data can be trusted by our stakeholders because it is transparent, accurate and independently assured.
F2022
Define ESG metrics and set up ESG dashboard.
Set up priority projects.
Create ESG awareness.
Review 'One Imperial' ESG-related policies.
F2023
Execute priority initiatives.
Communication and training focus.
Tracking and reporting.
F2024
Execute priority initiatives.
Embed proactive practices.
Culture embedding focus.
F2025
Assess progress towards
2030 targets.
Review 2030 targets.
Prioritise new initiatives.
Environment
Improve fuel efficiency and investigate alternative fuels
Logistics Africa fleet objective: achieve a year-on-year improvement in fuel emissions in gCO2e/km1, 2 for key businesses operating fleets in South Africa.
6% reduction in F20212
Reduce GHG emissions
Logistics Africa objective: increase renewable electricity supply annually to achieve an increase of at least 0,5% in demand met by renewables in South Africa operations in F2022.
3,1% of demand met by renewable electricity in F2021
Market Access objective: implement renewable energy systems in three sites by F2030
Group:
16 040 tonnes of Scope 1 and 2 emissions avoided in F2021
Increase waste recycling
Logistics Africa objective: explore opportunities to further improve recycling metrics.
68% general waste recycled in F2021
ESG aspiration
Striving for zero harm to people and the environment – transitioning towards net zero carbon by 2050
Social – workforce
Zero harm to people
Monitor and report lost-time injury frequency rate (LTIFR).
LTIFR externally assured for the first time in F2021
Improve diversity and inclusion
Group: achieve diversity targets across all businesses and board level.
Black representation at top, senior and middle management levels was 36%, 28% and 54% respectively, with senior management falling short of the 32% target
Black female representation at top, senior and middle management level was 12%, 11% and 18% respectively
50% black and 40% female representation achieved at board level
Develop talent
Group: develop a formalised programme to address skills gaps, continue to map talent and establish succession plans for leadership roles and critical positions.
Made progress in the roll out of the Imperial Talent Management Way
Social – community
Enhance inclusive supply chain performance
South Africa: achieve the Road Freight Sector Codes and generic dtic3 scorecard requirements for
B-BBEE.
Maintained Level 2 rating against Road Freight Sector Codes for F2021
Projected4 score against dtic Codes
Level 3 rating for F2021
Established centre-led procurement and enterprise development functions to enhance strategic planning and performance
Improve employee localisation
Group: meet country-specific localisation requirements.
New focus area requiring further definition in future
Strengthen corporate social investment (CSI) partnerships to increase impact
Group: sustain a CSI spend of 1% of profit after tax (PAT), and monitor and report societal impacts.
4,5% of group continuing NPAT net profit after tax (NPAT)
Governance
Integrate ESG into governance and risk management processes
Group: maintain a no-compromise approach to governance.
Zero instances of non-compliance with applicable laws
Group: maintain or improve key ESG ratings.
Mostly maintained in F2021
(see Overview of our ESG ratings and assessments)
Market Access and Logistics Africa: complete anti-bribery and corruption training with internal certification for targeted employees with access to email by the end of F2022.
2 680 trained in F2021
Embed information security and data privacy
Group: no incidents of material successful cyber security attacks.
One occurrence, with no material data or financial loss
Ensure high supply chain standards are upheld
Market Access: no material deviations from client supply chain standards.
No material deviations of non-compliance for health and safety impacts of products and services
Socioeconomic impact assessment study (F2020)
900 000 m2
total warehousing
under coverage
R9 billion
procurement spend, 70% with
B-BBEE compliant suppliers
R3,5 billion
employee-related
expenditure

3,2%
of operating profit
spent on CSI
Patients saved
R49 million
on healthcare costs via Unjani Clinics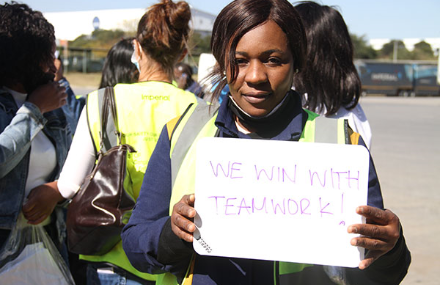 95%
principal contract
renewal rate
10 teaching hospitals
supplied with chemotherapy
treatments
Access to
pharmaceuticals saved
~35 800 lives
Travelled 360x
South Africa's road length
for customer deliveries
Recycled
12,8 million
litres of water
Avoided
5 700 tonnes
of greenhouse gas emissions
R483 million
taxes contributed
R23 million
training spend,
900 000 training hours
1 266 tonnes
of waste recycled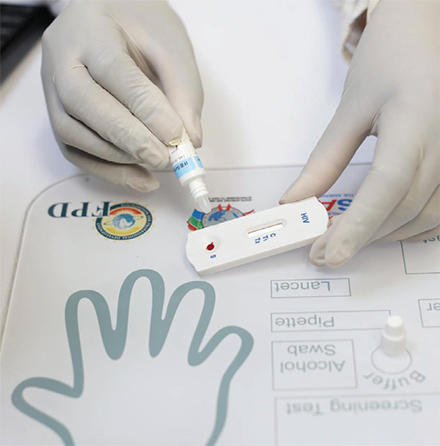 Fairly priced medicines
saved patients
NGN59,5 billion
Global Women's Forum
for development and
advancement of women
More than
200 jobs
supported in supply chain
969 jobs
supported with
NGN2,8 billion
employee benefits
During the year, we furthered our ESG journey, conducting an ESG maturity assessment across Market Access and Logistics Africa, and a socioeconomic impact assessment of our operations in South Africa and Nigeria. These exercises have enabled a better understanding of where our activities directly and indirectly impact our stakeholders, industries and societies; and what stakeholders need and where improvements can be made in our ESG practices and performance. Through this process we crystallised our ESG strategy and identified our key focus areas, critical implementation enablers and key measures.
Our socioeconomic impact
Accenture's independent SEIA for Imperial covered the 2019 and 2020 financial years. The objective was to quantify and understand the direct and indirect value we create for our stakeholders and communities in two of our key markets, and our socioeconomic impact against the UN SDGs and the African Union's (AU's) aspirations for Africa.
Estimated socioeconomic value we created
South Africa
R98,1 billion
(USD6,3 billion)
Nigeria
R145,9 billion
(NGN3,6 trillion; USD9,3 billion)
2021 performance review
Approved our first ESG strategy and implementing specific, measurable targets and KPIs.
Published our first UN Global Compact communication on progress: https://www.imperiallogistics.com/pdf/sustainability-reports/imperial-ungc-cop-july-2021.pdf.
Won IRAS transport sector award and nominated among the top four finalists for the Risk Insights IRMSA ESG Sustainability Award.
We are developing a dashboard to monitor progress against our ESG strategic objectives, and engaging with businesses on integrating ESG practices in their day-to-day activities and identifying action plans to meet our ESG objectives and targets.
Improved and maintained ESG ratings and assessment scores.
KPIs informed by the ESG strategy are being included in the short-term incentives for the executive committee.
Outlook
Guided by our aspiration to strive for zero harm to people and the environment, we will continue to progress our ESG strategy, performance and disclosures. As a purpose-led organisation, our ability to execute on our ESG strategy and aspirations serves multiple purposes by:
Further securing our reputation as a trusted, credible brand and business partner.
Strengthening our value proposition for future employees and enabling us to attract and retain the best talent by positioning
us as a brand that cares for its people, communities and the environment.
Bolstering our employee value proposition by reshaping us as a more diverse and inclusive organisation.
Creating opportunities to access new pools of capital, particularly green finance and sustainability-linked bonds.
Increasing our local relevance in our markets of operation through initiatives targeting local development and strategy marked a key step in our ESG journey this year; we must now drive implementation of local hiring practices.
Formulating our ESG across the group and each of our businesses to ensure that we continue to improve on our performance and disclosures, and take steps towards making our aspiration a reality for Imperial and our stakeholders.
Overview of our ESG ratings and assessments
Imperial's ESG ratings
EcoVadis
An international rating agency that evaluates the sustainability performance of global supply chain companies in 200 industries across 160 countries.
Latest rating date: October 2020 (valid to October 2021)
Silver status and placed among the top 25% of companies assessed (2019: 48)
EcoVadis
Imperial score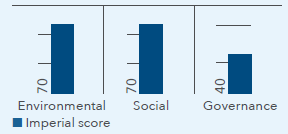 CDP
Assesses climate change disclosure.
Latest rating date: October 2020
Intermodal transport and
logistics
D
ISS
Provides investors with in-depth insight to effectively incorporate sustainability in their investment decisions. Ratings are taken monthly.
Latest rating date: August 2021

FTSE4Good
A global sustainable investment index series.
Latest rating date: June 2021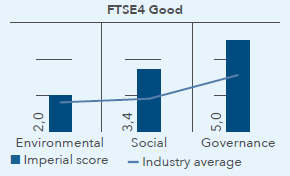 Risk Insights ESG GPS
An ESG rating which considers local market factors in the weighting and scoring.
Latest rating date: May 2021
4 out of 4
Excellent rating
(F2019: 3)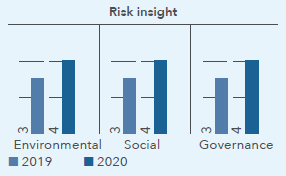 2021 IRAS Report
The 2021 IRAS report provides a comprehensive review of ESG reporting in South Africa, using its research and sustainability data transparency index.
Latest rating date: 2020
70,1%
The highest ranking
in the transportation
sector
Our previous rating in the last IRAS report published in 2016 was 44,5%. The average score for the sector in 2020 was 47,3%.