A significant mover of goods, with established infrastructure and networks in 38 countries on five continents, operated by approximately 30 000 employees.
Key investment highlights
Leading positions in regional markets provide platforms for sustainable growth:

market leader in South Africa, a leader in selected industries (consumer packaged goods (CPG) and healthcare) in the African Regions and in certain specialised capabilities in Europe.

Competitive differentiation centred on agility and customisation:

specialised capabilities across the value chain enable customised and integrated solutions, with service offerings and operating models tailored to client requirements and market maturity.

Trusted partner to multinational clients:

quality contract portfolio in high-growth and defensive industries, with partnerships demonstrating reach, capabilities, assets, innovation and legitimacy.

Asset right business model underpins financial profile:

more optimal asset mix and targeted returns on capital support prospects for sustainable revenue growth, enhanced profitability and cash generation.
Vision to unlock benefits of "One Imperial Logistics":

strategy focused on sustainable revenue growth, enhanced returns and improved competitiveness, with initiatives to drive substantial organic growth enabled by a differentiated approach to digitalisation and innovation, and enhanced financial flexibility supporting selective acquisitive growth.

Track record for consistent growth:

proven ability to acquire, develop and leverage specialist capabilities to establish growth platforms in emerging and advanced markets.

Strong and committed leadership:

highly experienced, long-serving management team and a strong independent board.
---
An integrated outsourced logistics service provider…
South Africa

African Regions

International

Leading end-to-end capabilities to provide outsourced services to extensive client base across verticals
Integrated offerings evolving to enhance value

Leading distributor of pharmaceuticals and CPG in Southern, East and West Africa
Managed solutions being expanded across the region

Asset right transportation management (shipping/road)
Leading capabilities in chemical and automotive verticals
Specialised express distribution capabilities
---
…with a diversified presence across Africa and Europe…
Revenue*
R51,4bn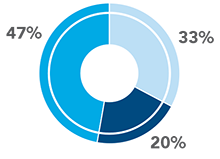 Operating profit*
R2,8bn
Total
ROIC vs WACC
12,2% vs 8,5%
Total
Operating margin
5,6%
ROIC
WACC
South Africa
African Regions
International
* Excludes head office and eliminations. Revenue percentage splits based on external revenue, excluding businesses held for sale.
…offering specialised capabilities and customised solutions…
F2018 revenue split

…to multinational clients in attractive industries.

F2018 revenue split