Our Stories
Real Women Unfiltered
Own Your Movement
I MOVE


Real Women Unfiltered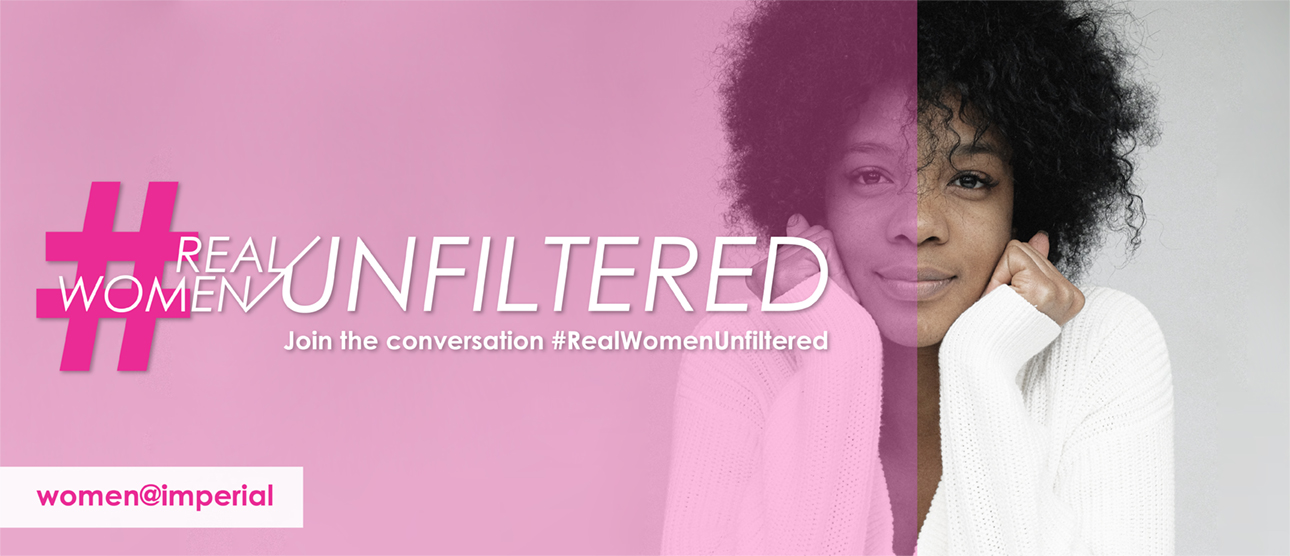 In recognition of International Women's Day (IWD) on 8 March, Imperial is launching the #RealWomenUnfiltered Campaign.
As an organisation that believes in empowering, advancing, and investing in women, we acknowledge that there is a need for change to break the stereotypes and biases that women face every day around the world.
BY LETTING GO OF THE FILTERS
WE PUT ON OUR LIVES, WE CAN BEGIN
TO CELEBRATE OUR TRUE, AUTHENTIC SELVES
AND EMBRACE OUR DIFFERENCES
AND UNIQUENESS AS WOMEN.
Often under the pressures of society, women place filters on themselves - whether it be to mask their natural appearance or to skew the perception of their lives, mental health, or overall wellbeing. This month, we will be showcasing the power of removing these filters and highlighting the strengths that women see in one another.
BREAK FREE FROM
STEREOTYPES AND BIASES
AND UNFILTER YOURSELF
Watch as women@imperial share their unapologetic, unfiltered and real stories of women who inspire them:
Join the conversation on social media by telling us what filters you have placed on your life and how you intend to remove them to empower yourself.
You stand a chance to win a spa voucher to the value of R5 000.
T's & C's apply.
#RealWomenUnfiltered
Own Your Movement
I MOVE
Niki Cronje
Vice President: Marketing, Sponsorship and Brand
I have played a fundamental role in the development of road safety advocacy for the Imperial Group over the past 9 years. I took this profound passion for brand building and Corporate Social Investment and reignited road safety, as well as the three other pillars of CSI for the brand including education, healthcare, and sports development.
My aim is to create a truly holistic approach to CSI outreach – intrinsically looking inward to develop key areas that impact South Africa's youth. Imperial has allowed me to grow my passion for people while making a difference to the communities in need.
#MovingWomenForward
Esha Mansingh
Executive Vice President: Corporate Affairs & Investor Relations
My personal motto is 'grab everything life throws your way' – in doing so you are able to move beyond what is likely or conceivable and truly push yourself beyond your own personal boundaries. For me, I move between being a mom to two gorgeous children, a wife, a daughter, a member of the executive committee at Imperial and a TV presenter. I have a deep appreciation and understanding for the different roles we, as women, have to play – we face challenges, we witness successes, we are strong but empathetic and bring something unique to the mix. I am deeply passionate about creating a space for women at the table and opportunities for women to progress. I believe together with men, empowered women should always empower other women.
#MovingWomenForward
Sandi Ntshongwana
Vice President: People & Culture: Market Access | Consumer
My first degree was in HR and all my work experience has been in HR – 20 years to be exact
I started with Imperial in March 2017. It was a new role as the HR Executive for the African Regions business. I completed a MBL (Masters in Business Leadership) at the end of 2019. During this time Imperial provided me with the worklife balance to be able to complete my degree.
"I MOVE" with Imperial!
#MovingWomenForward
Andrea Muenzer
Senior Business Development Manager
Germany
I MOVE as a logistics specialist at Imperial, I can hold my own in a male-dominated industry and explore new professional horizons and opportunities.
#MovingWomenForward
Judith Nzimande
Senior Vice President: People and Culture: Logistics Africa
I MOVE because I am destined for greatness!
I joined Imperial as a seasoned Human Resources expert with a wealth of experience in Human Resources, having occupied positions ranging from Generalist to Head of Human Resources and Transformation at Mondi Shanduka Newsprint. In 2017. I was appointed as the Executive Director Human Resources in Group Five. Leading the HR and Corporate affairs for the group.
#MovingWomenForward
Dr. Pooja Neil Lumb
Quality Assurance Pharmacist
"I Move and grow as a professional. From sponsorshop to joining professional societies, and encouraged to further my studies, the leadership at Imperial has always supported my growth as a professional.
My manager, Dr. Vijai Maini, a respected veteran in the industry, has always shared his insights and guidance, not only related to my work but also for my academic writings and scientific presentations, inspiring me to grow and develop within my profession."
#MovingWomenForward
Joyce Wade
Human Resources Manager
HSC
"Thanks to HSC, LSC and Imperial I have been afforded the opportunity to further my studies in Human Resource Management, a field in which I am so passionate about. I have also been able to expand my studies through other management development programmes and courses. All this growth and movement was made possible by the incredible women who I have walked my life's journey with thus far - my mother, aunts, sisters, cousins, colleagues, managers and leaders - all females who have rocked and played a major part in my life.
#MovingWomenForward
Sarah Weru
Client Liaison Manager
IMS East Africa
"I Joined Imperial as a casual employee, after which I joined the customer service team as an agent.
After one year I was promoted to Customer Service Supervisor. Imperial not only gave me a chance to study my MBA but also paid for my tuition. I am currently a Client Liaison Manager and I appreciate the enormous support given to me by Imperial."
Thanks to Imperial, I Move from a casual employee to an educated, experienced Client Liaison Manager."
#MovingWomenForward
Charity Karuku
Assistant Warehouse Manager
"Having worked for seven years with Imperial, I have gained immeasurable experience and career growth that has allowed me to be entrusted with great responsibilities. Through hard work and support from management I have been empowered financially."
'I Move to financial empowerment'
#MovingWomenForward
Lara Kiencke-Klebor
Head of HR Solutions
"As a woman with a multicultural background, I experience Imperial as a company that brings people from many cultures together by living up to its promise of diversity and equality and actually practicing what it preaches."
#MovingWomenForward