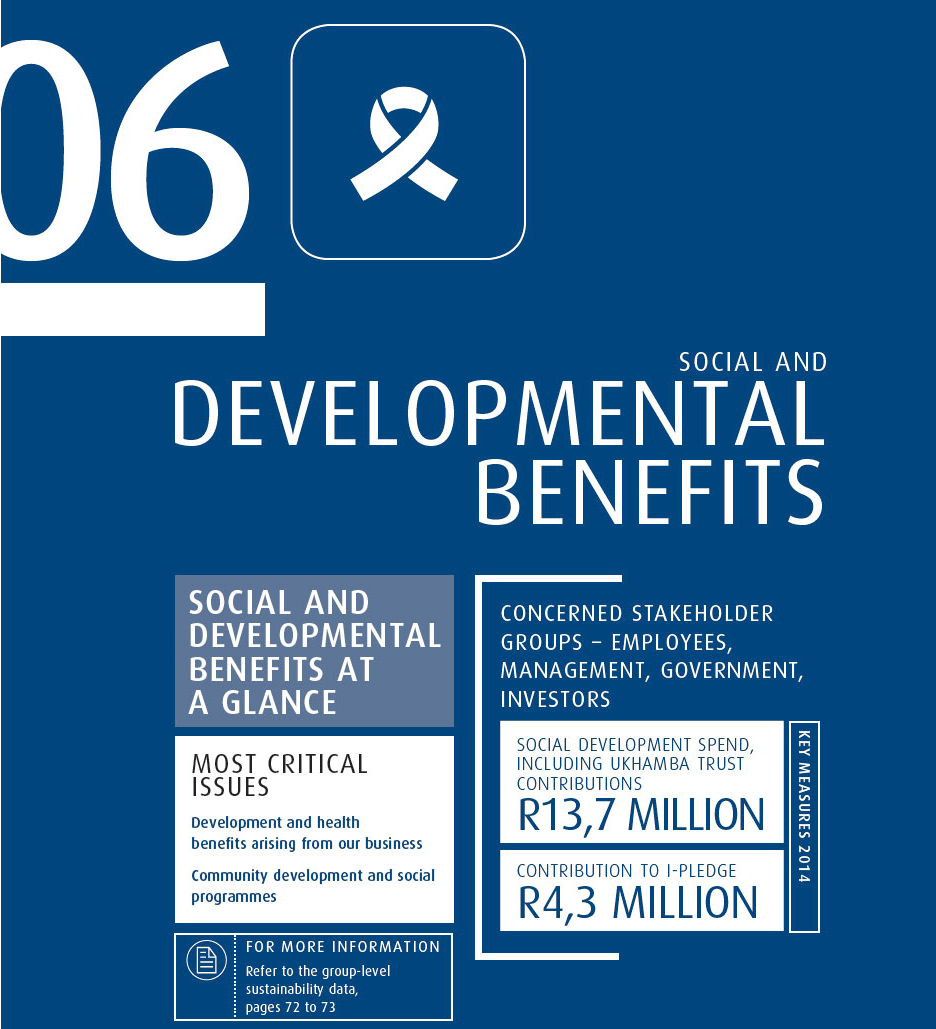 | | |
| --- | --- |
| | OUR MANAGEMENT APPROACH |

All areas of the business contribute directly and materially to social and community development projects.

Direct contributions totalled over R18 million in the 2014 financial year and were made in two major areas – education, through the Ukhamba Community Development Trust, and road safety, through the I-Pledge campaign.
Further to these two focus areas, the business engages in social upliftment projects in many of the communities in which it operates. These projects are generally initiated and undertaken at a business unit level, in response to the specific needs of local communities and the capacity of the business to support them. They include significant work in the area of HIV/Aids and wellness conducted in the Logistics Africa division, but which has broader societal relevance given the nature of the disease.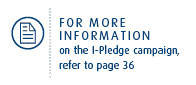 Over and above these contributions, Imperial creates value in society and maintains its social relevance through its business activities and the way in which it conducts them. The shared value created in this way is sustainable, as both economic and societal benefits are generated. Examples include the distribution of foods and pharmaceuticals to remote locations in Africa, the safe storage and transport of life-saving medicines in Africa, the provision of entry-level car buyers with affordable options for car lease and purchase and the provision of competitively priced and value-for-money insurance products to emerging consumers.
In addition, the significant training spend of the group (R170 million in the 2014 financial year) supports the development of a more educated and better skilled workforce, and job creation and enterprise development initiatives (as described on pages 26 to 28) have started to address the pressing issue of youth unemployment, which increasingly has the potential to become a destabilising factor in our society and business environment.
The following sections give an update on the work of the Ukhamba Community Development Trust, an illustrative case study on shared value (pharmaceutical distribution in Africa) and examples of social upliftment projects conducted through the business.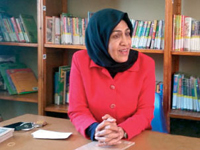 "A unique feature that makes us different is our daily interaction with the learners." Shayda Arbee: Executive Manager – Imperial and Ukhamba Community Development Trust
THE UKHAMBA COMMUNITY DEVELOPMENT TRUST
The significant and meaningful success of the Imperial Ukhamba Community Development Trust, established in 2003 by the late Bill Lynch, former CEO, and Hafiz Mohamed, the former deputy CEO and CFO of Imperial, is one of the group's proudest and most significant achievements. All operating businesses in the group make a contribution to the Trust and these contributions totalled R7,3 million in the 2014 financial year. In addition, the Trust derives revenue from its 6% holding in Ukhamba, which in turn holds some 10% of Imperial group shares. An over-the-counter (OTC) scheme has been established to enable Imperial's black employees to realise value from their holding in the trust more easily.
| | |
| --- | --- |
| | The work of the Ukhamba Trust is exclusively concerned with education projects. Since its establishment, trustees have approved financial outlays exceeding R50 million for teaching and learning programmes, co-curricular and extra-curricular resources, teacher training and skills development, capital projects, curriculum development programmes and, increasingly, the establishment of school libraries. |
The Trust aims to support high-impact, high-quality interventions and direct involvement in the poorest communities, largely in the neglected southern corridor of Johannesburg. They prioritise support for programmes that reach the largest possible number of learners and which are undertaken in schools with a good management team and learning environment, and which have shown steady and reliable improvements in their annual national assessment outcomes.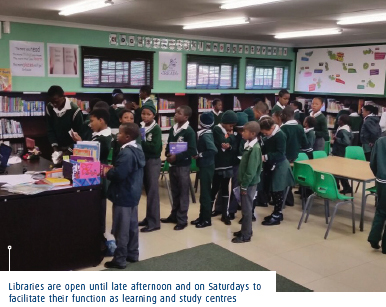 To date, the Trust has provided support for setting up of 13 school libraries, boasting sophisticated resources and on average, two paid librarians per school. Unutilised classrooms are revamped into a pristine library and study centre and stocked with a start-up collection of 5 000 to 6 000 books as well as resource and reference materials for study, research, lesson planning and preparation. Libraries are open from early morning each day, as well as each Saturday, and during school holidays. To date, the initiative has touched the lives of 11 000 previously disadvantaged children through the library and school project.
Librarians, formerly unemployed township youth, are trained in providing reading classes for leaners from grade one to grade seven in primary schools, and reading and comprehension support for learners in grade eight and nine. The Trust employs 24 librarians across its projects in South Africa.
A graded and guided reading programme is at the centre of the Trust's engagement with its portfolio of schools. It is mandatory that participating schools schedule one hour per week of reading for every learner in grades one to seven. The reading programme is closely monitored by senior Imperial and Ukhamba employees for its effectiveness in developing reading competence and comprehension.
The provision of libraries will become the major focus area for the Ukhamba Trust in the future, as the project is showing dividends in the form of improved literacy, engagement and social skills, all of which are essential for preparing learners for the workplace in the future.
Other examples of social upliftment projects undertaken by businesses in the Imperial group include:
| | |
| --- | --- |
| > | A partnership with the Ukhamba Development Trust to support the latter's holistic approach to ensuring an environment conducive to learning at seven schools in the south of Johannesburg |
| > | Europcar is a founding member and has been a patron of the Nelson Mandela Children's Fund since its inception in 1995, donating a percentage of every inbound international rental to the Fund. To date, more than R1,5 million has been donated to the Nelson Mandela Children's fund |
| > | Europcar also provided mobility support for Reach for a Dream, Columba Leadership, a provider of values-based leadership programmes to empower young people from difficult backgrounds, and GOLD Peer Education, a programme supporting the fight against HIV/AIDS, high-risk behaviours, poverty and abuse among the youth |
| > | Kia Motors became one of Smile Foundation's core donors three years ago, and has helped support seven of the 11 academic hospitals in South Africa. It has enabled the Smile Foundation, together with the National Department of Health, to assist many underprivileged children with plastic and reconstructive surgery and has supported children with psychological, speech and occupational therapy. In addition to improving the quality of life for these children and their families, the funding was also used to support Smile Foundation's Academic Skills Programme. This programme actively develops the skills of South Africa's medical fraternity within these hospitals. Nurses also benefited from the funding and were able to attend courses on wound care, pain management and basic life support. The 2014 financial year's donation of R1,6 million was used at the Tygerberg Academic Hospital. The funding was used to support an anaesthetist, as well as four intensive care unit nurses. The use of additional employees within the hospital has drastically reduced the patient backlog and the hospital is now in a position to assist patients with the necessary healthcare in a smaller time frame |
| > | HIV/AIDS and wellness projects undertaken in the Logistics Africa division. The logistics industry provides a wellness programme called 'Trucking Wellness'. This initiative provides roadside wellness centres for drivers at truck stops, as well as mobile wellness centres providing the same service at company level. Logistics Africa is involved with and sponsors three roadside wellness centres and operates a further four in-house wellness centres in Alrode, Wadeville and Driehoek. The Driehoek centre was established during 2014. Total spend on these programmes during the financial year was R8,2 million. These centres provide primary healthcare and HIV/AIDS awareness training and refer employees who are HIV positive to the industry's treatment programme. At wellness centres HIV/AIDS awareness training takes place through a peer educator before drivers or employees enter the clinic |
The above are a few examples of support that has been offered to a range of community projects during the year under review.
CASE STUDY > GETTING QUALITY MEDICINES TO THE PEOPLE OF AFRICA
The Imperial Health Sciences Supply Chain Academy, part of Logistics Africa, is one of Africa's leading providers of training and development for people working in the public health supply chain.
The academy was founded to address the desperate need for supply chain skills in Africa's public health environment, especially in warehousing best practice.
Weak links in this supply chain can have dire consequences, including restricting access to drugs needed to prevent and treat AIDS, malaria, tuberculosis and other deadly diseases. Qualified pharmacists and warehouse employees often do not understand basic supply chain strategy and methodologies. Historically, poor pharmaceutical warehouse management, including cold chain management, has resulted in medicinal product and vaccine decay and subsequent inefficiencies and loss of product. As a result, much-needed medicines and vaccines do not reach patients in time, leading to poor health services and unnecessarily high death rates.
IN-DEPTH UNDERSTANDING OF WAREHOUSE OPERATIONS AND BEST PRACTICE
In 2005, the Imperial Health Sciences Supply Chain Academy introduced its first education offering, the warehouse management operations course, for warehouse managers and supply chain management practitioners in governmental, public and private sector organisations in African countries. The course is internationally recognised and designed to equip delegates with an in-depth understanding of warehouse operations and best practice, promoting a multi-disciplinary and integrated approach in line with warehousing trends. Material covers elements of warehousing – from operations and procurement to distribution and other key components of managing the health supply chain system.
PLAYING A CRITICAL ROLE IN THE PUBLIC HEALTH SECTOR
Today the Imperial Health Sciences Supply Chain Academy offers programmes from basic to post graduate level, and plays a critical role in the development of individuals working at all levels of the public health sector, helping them to perform their roles more efficiently and to understand how their functions fit into the public health supply chain and influence its performance.
In addition to the Warehouse Operations Management Programme, two further basic level courses are now offered, the Supply Chain Performance Improvement Programme and the Executive Change Management Programme.
Based on ISO accredited best practice, the Supply Chain Performance Improvement Programme aims to enhance the performance of public health supply chains. A specific objective of the programme is to outline a systematic approach to achieving regulatory compliance on which to build operational efficiencies.
The Executive Change Management Course assists managers with the often complex and challenging process of implementing and managing change.
ACQUIRING MANAGEMENT SKILLS
The Supply Chain Academy's certificate level qualification – the Certificate in Health Supply Chain and Logistics – aims to equip graduates with the skills needed to follow a path into management positions in an organisation. Candidates are provided with the basic concepts of managing innovation, technology, people and systems within a healthcare supply chain environment.
The certificate level programme has been development by the Imperial Health Sciences Supply Chain Academy in conjunction with the Da Vinci Institute, a renowned Johannesburg-based private university established in 1992 to create managers with the competence to lead their organisations.
DEGREE AND POST GRADUATE QUALIFICATIONS
Degree and post graduate qualifications are also offered by the Imperial Health Sciences Supply Chain Academy. The Bachelor of Commerce in Business Management has been customised for supply chain employees. Developed by the Da Vinci Institute in conjunction with the Chartered Institute of Purchasing and Supply, it aims to develop managers who understand the importance of socio-economic transformation within a supply chain environment.
The academy's Masters Diploma in Supply Chain Management is aimed at managers with a bachelor degree or similar qualification. It is designed to accelerate the development of managers by giving them a thorough overview of the strategic aspects of business and the way each function interlinks, and is offered in partnership with the University of Stellenbosch's Business School.
DELIVERING REAL BUSINESS BENEFITS
From 2007 to 2013, 214 delegates from all over Africa attended the Warehouse Operations Management courses run in South Africa by the Imperial Health Sciences Supply Chain Academy. Feedback from graduates revealed that after completing the programme, they were able to make tangible, sustainable and measurable improvements within their organisations.

Another graduate revealed that he had successfully implemented "regular spot-checks of key products, close follow-up of products at risk of expiring, good filing of documents and filing relating to physical inventory" following the course.
The introduction of key performance indicators, improvements in distribution and scheduling and enhanced quality management programmes were also among the improvements that graduates reported making once they returned to their home countries.