Exclusive importer, distributor and retailer of passenger and light commercial vehicles into the South African market. For the 12 passenger vehicle brands for which we have exclusivity, we capture virtually the entire value chain from the point of import to the point of sale, including the parts and servicing of these vehicles. We also retail these vehicle brands through 126 owned and 113 franchised dealerships.

Countries of operation in the rest of Africa include Namibia, Botswana, Zambia, Tanzania, Kenya and Malawi.

In May 2014, we established a small assembly plant for medium-sized commercial Hyundai vehicles in Benoni, Gauteng.
Industrial equipment (forklifts, access and cleaning equipment) is imported, rented and distributed through the Goscor Group.

Bobcat distributes and rents compact vehicles such as loaders and excavators to the construction, mining and agriculture sectors.

The Segway business imports and distributes electric personal transporters.

E-Z-GO distributes golf carts.

Datadot manufactures and distributes vehicle and asset identification equipment and operates principally in South Africa.
In Australia, we retail Ford, Mitsubishi and Renault through six dealerships in the Sydney area. In May 2014, we opened our first Renault/Ford multi-franchise dealership in the region.
BRANDS DISTRIBUTED IN SOUTH AFRICA ARE EXCLUSIVE AND INCLUDE:
Hyundai, Kia, Renault, Mitsubishi, Tata, Chery, Foton, FAW, Lotus, Daihatsu, Bentley, Lamborghini, Kawasaki, Aprilla, Triumph.
In

EAST AFRICA

we recently secured the distribution rights for Nissan.
WHERE WE OPERATE
South Africa is the anchor market for this division. The South African market accounted for R23 611 million (87%) of revenue, R3 099 million (11%) of the division's revenue originated in Australia and R390 million in the rest of Africa region.
MARKET OVERVIEW
South Africa
In 2014 we experienced tough trading conditions in the new motor vehicle market in South Africa, with the market down 2% for the 12 months to June 2014. The combined impact of reduced disposable income, interest rate increases, new vehicle price increases caused by a weaker currency and a high base created by strong volume growth over the last four years affected growth.
Industrial distribution in South Africa also remained a tough market, with forklift sales under pressure and unit sales for the market down 25% year-on-year.
Australia
The Australian new motor vehicle market contracted marginally over the past 12 months, with only the sport utility vehicle (SUV) segment, in which Ford is well represented, showing growth. The recent exit from manufacturing by Ford in Australia has prompted a change in the mix from rental to retail which impacted negatively on volumes. However, we anticipate improved margins as a result of this shift.
New vehicle sales in South Africa (1995 – 2013)
STRATEGY OVERVIEW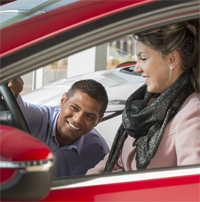 The division benefits from its exclusivity as an importer and distributor, as well as its extensive dealer footprint that is largely owned by Imperial. Together with our financial services businesses this enables us to capture margin at virtually all points in the motor value chain.
We believe this is a robust model and aim to grow and diversify our brand portfolio further by concluding additional distribution agreements with manufacturers. This will be done either though existing brands in new regions or new brands in existing regions (as with low-cost brands introduced into South Africa from India and China with the emerging consumer in mind and a distribution contract recently concluded with Nissan for East Africa).
This division imports its products in Dollars, Pounds, Euros and Yen. The bulk of the purchases are in Dollars.
We aim to grow aftersales parts and services revenue, which is generated through the growing motor vehicle parc sold through our distribution network. In turn, this generates business in our financial services division, as we improve retention of clients and further develop our market for value-added motor-related products.
There is inherent cyclicality in these businesses, which rely on the new motor-vehicle market, and in the case of vehicle imports, can be impacted by rapid movements in the exchange rate. To offset this cyclicality, earnings from parts and services and financial services and products provide annuity revenue to underpin the vehicle distribution and dealerships business.
FINANCIAL AND OPERATING PERFORMANCE
Results overview
The division faced difficult trading conditions and was under pressure during the year. A significant weakening in the currency, interest rate increases, a slowdown in vehicle sales and a more competitive market impacted volumes and margins.
Excluding the Australian operation, new vehicle registrations, as reported to the National Association of Automobile Manufacturers of South Africa (NAAMSA) by Associated Motor Holdings (AMH), Amalgamated Automobile Distributors (AAD), Tata, Mitsubishi and Renault, were 0,4% higher, compared to a market that declined 2%. Renault volumes were not included in the prior year, as it was an associate.
As a South African importer, the division's profits were severely depressed by the weakening of the Rand during 2013. The
25% to 30% decrease in the value of the Rand against the relevant basket of currencies between January and December 2013 had a direct and dramatic impact on the cost of new vehicles. However, existing inventories and forward cover on the currency delayed the impact on margins for approximately six to nine months. As new inventory flowed through to the point of sale, the required price increases sequentially depressed competitiveness, volumes, margins and profitability.
Higher new vehicle prices and affordability drove motorists to pre-owned vehicles, which experienced moderate growth. Consistent sales of our exclusive imports in recent years have increased the motor vehicle parc, establishing a higher base for the provision of aftersales parts and services by the dealerships. Revenue streams from aftersales parts and service improved, with the provision of services up 18% for the year.
Renault became a subsidiary of this division with effect from 1 December 2013 and performed in line with expectations.
Although second half performance improved in Australia, new motor vehicle sales declined 14% as we altered the sales mix from rental to retail sales. Pre-owned sales declined 12%.
Net capital expenditure reduced 15% to R714 million (2013: R844 million) as a result of lower investment in properties compared to the prior year.
R million

H1 2014

%
change on
H1 2013

H2 2014

%
change on
H2 2013

2014

2013
%
change on
2013
Revenue
13 378
2,7
13 722
8,4
27 100
25 682
5,5
Operating profit
934
(18,8)
584
(45,8)
1 518
2 228
(31,9)
Margin (%)

7,0

4,3

5,6

8,7
Return on invested capital (ROIC) (%)
11,5
21,5
Weighted average cost of capital (WACC) (%)
9,1
9,0
Weighted average invested capital

9 454

7 461
| | | | | |
| --- | --- | --- | --- | --- |
| REVENUE (Rm) | | OPERATING PROFIT (Rm) | | OPERATING MARGIN (%) |
| | | | | |

What were the
major challenges
during the year?

The impact of the rapid depreciation and sustained weakness of the Rand, in tandem with a slowing market for new vehicles, was the major challenge for the vehicle distribution business in 2014. As an importer of vehicles, margins are under pressure in a weak Rand environment, as price increases cannot be passed through immediately. However, the fundamentals of this business are sound and we have developed and maintained excellent relationships with our principals. We also benefit from a growing motor vehicle parc, which contributes to the growth of parts and services and pre-owned vehicle sales. These sectors of the business tend to be more resilient in an environment where new vehicle sales are under pressure.

Like other businesses in this area, we have experienced increased regulation, including for example the Protection of Personal Information Act (POPI). Although we support this development, it does add complexity to our business, particularly as we increase the extent to which we operate in the electronic space. We have invested in systems to ensure compliance with the Act.
Vehicle price increases (year-on-year growth)
New and pre-owned

(units)

Exchange rate impact on imported brands

(%)

Source: Transunion
What did we achieve during
the year?

2014 was a challenging year for the industry. However, we took advantage of opportunities to:

| | |
| --- | --- |
| > | Acquire a further 11% shareholding in Renault South Africa for R65 million, in line with the strategy of adding more imported brands to our existing distribution network |
| > | Establish a small-scale assembly plant with support from Hyundai Korea in South Africa. This was a clear demonstration of Hyundai's commitment to South Africa and to our partnership with them |
| > | Strengthen our position in aftersales parts and services. Our motor vehicle parc has doubled over the last five years (see graph below) |
| > | Increase our understanding and penetration of web-based motor vehicle sales. Consumers currently search for vehicles online, but still tend to prefer to buy vehicles through a physical dealership. We are active in the online market and constantly rework our offer to develop web-based sales formats which are more closely tailored to consumers' needs |
| > | Refocus our Australian business to capture the most profitable section of the market. The withdrawal of Ford manufacturing from Australia created an opportunity for us to refine the sales mix to ensure we derive maximum value from our dealerships in this competitive market |
| > | Successfully expand into the rest of Africa, which includes the recent conclusion of a distribution contract with Nissan East Africa |




Where do we still
need to focus
our attention?

Tougher conditions are expected in the new vehicle market, which will affect volumes and margins. We will continue to work with our principals to mitigate the impact of these conditions, where possible, reviewing purchasing practices and managing currency risk more effectively to ensure we remain competitive. We protect our margins with controlled pricing, better foreign exchange management and review our product mix continually to focus on the most successful products and brands. Revenue and operating profit are underpinned by a growing motor vehicle parc and increased penetration of aftersales parts and services.

As with other businesses in South Africa requiring skilled employees, we have a mobile workforce. We therefore continually focus on measures to increase employee retention. Training remains a key issue, with employees benefiting from our wide range of courses, including sales, product, parts and service training. In total, 223 artisans were trained during the year. Incentive programmes aimed at retaining skilled employees are continuously reviewed.

As demand in our main market South Africa is currently stable, the onus is on our business to re-invent itself continually. During leaner years for consumers, we need to find ways of making vehicles more affordable. In all markets, the focus is on making vehicle purchases easy for consumers, including by capitalising on private leasing.

"We have many partnerships and our business is a cake with many ingredients. We own the complete vehicle value chain – with the exception of vehicle
transport. The same policy applies to our forklift and industrial business."
MANNY DA CANHA, CEO Vehicle Import,
Distribution and Dealerships

Growing vehicle parc of Imperial's exclusive imported brands
FUTURE GROWTH PROSPECTS
The biggest challenge in the new financial year will be to pass on the dramatic currency-induced increases in the cost of imported new vehicles, while remaining competitive in a slowing market.

We anticipate trading conditions in the new motor vehicle market to remain tough. Reduced disposable income, interest rate increases, a significantly weaker currency and the high base created by strong volume growth over the last four years all present headwinds affecting margins and growth

While our inventory position has improved, we expect the market to be more competitive, as market conditions become more challenging. As an importer of vehicles, we expect margins to remain under pressure as the currency remains weak and price increases cannot be passed through immediately

As a result of new vehicle price increases, the pre-owned motor vehicle market should improve further and aftersales parts and service revenues will continue benefiting from the increase in the installed base of vehicles in the brands we represent exclusively. Our aftersales parts and service business will continue to grow as our motor vehicle parc increases. However, the main opportunity for significant growth lies in adding brands to our current distribution platform and taking advantage of downstream opportunities like parts, servicing and financial services

We believe that the private motor vehicle leasing model has potential for growth, and are working to refine and expand our offering to this market through a joint venture

Over the longer term we are positioning ourselves to take advantage of the growth of vehicle sales in the rest of Africa.

Finally, our investment in people, systems and technology will create competitive advantage now and for the future as technology plays an increasingly important role in the automotive value chain.