Corporate governance is the exercise of ethical and effective leadership by the board to achieve the governance outcomes of ethical culture, good performance, effective control and legitimacy.
Imperial's approach to corporate governance is underpinned by its integrated governance model that extends beyond compliance. Good corporate governance supports business integrity, ethical behaviour and accountability for decisions that have economic, social and environmental impacts in the short and long term.
Imperial subscribes to and applies the principles of good governance contained in King IV and the board believes that the principles and recommended practices are integrated throughout the group to support the achievement of the King IV governance outcomes.
A register of the group's application of the principles of King IV is available here.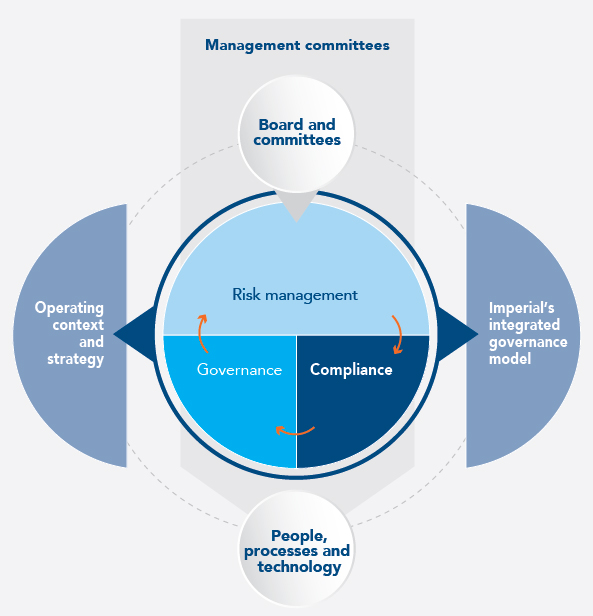 Operating context and strategy
Imperial's businesses operate in diverse geographies, industries and markets with different socioeconomic, political, regulatory and technological profiles. The complex interplay of opportunities and threats within these environments are closely monitored and addressed with strategies that ensure robust competitive positions.
Formal and informal scanning of the environment is an everyday executive responsibility, and the Imperial board is regularly appraised of developments that could have a bearing on the performance and sustainability of the group. Similarly, executive management responds tactically to everyday shifts in the operating context. The board annually approves the strategies necessary to remain competitive and create sustainable value for stakeholders over the long term.
Governance framework
Authority, responsibility and accountability for the group's ethics, performance and sustainability is held at board level, which the board formally delegates to the CEO and in turn to his direct reports and sequentially throughout the organisation. The diversity of Imperial's operations necessitates differences in the nature, structure and processes of delegation, except financial expenditure for which authority limits are consistent across the group.
The leaders of Imperial are mindful that entrepreneurial creativity and responsiveness is a competitive advantage and every effort is made to integrate governance processes in the least bureaucratic way possible.
Given the non-static nature of governance and the application of best governance practices, the board continually assesses the group's governance practices and procedures and makes adjustments where necessary.
Imperial Holdings board
Ultimate responsibility for governance rests with the Imperial board and its committees, which are constituted with the requisite expertise and experience. The group has a unitary board comprising seven non-executive directors, five of whom are independent, and three executive directors.
The responsibilities of the board are clearly defined in a written charter. The board charter outlines a clear balance of power and authority within the board to ensure that no single director has unfettered powers of decision making. The board has also adopted, and regularly reviews, a written policy governing the authority delegated to group management and matters reserved for decision by the board.
The responsibilities of the board include issues of strategic direction, business plans and annual budgets, major acquisitions and disposals, changes to the board and other matters that have a material effect on the group or are required by legislation.
Strong governance, enterprise-wide risk management and compliance, underpinned by experienced, independent board of directors – 50% independent non-executive directors

The board's diverse backgrounds ensure a wide range of experience in commerce, finance, law, industry and engineering. The non-executive directors have the necessary skills and experience to make judgements, independent of management, on areas such as strategy, performance, business development, transformation, diversity, ethics and environmental management.

The board adopted a formal board diversity policy in 2017 and set a target to increase the female representation of the board. The board has two female non-executive directors, making up 18% of the board.
NON-EXECUTIVE DIRECTORS
Suresh Parbhoo Kana
(63)
Chairman
PhD (Hons), BCom (Hons), MCom, CA(SA), CD(SA)
Further information
Suresh was appointed as a non-executive director to the board of Imperial on 1 September 2015 and as the independent non-executive chairman of the board on 3 November 2015. He is the independent non-executive chairman of Murray & Roberts Limited, lead independent director of JSE Limited and non-executive director of Quilter plc. Suresh chairs the audit committee of the United Nations World Food Programme based in Rome. He is the chairman of the King Committee on Governance and of the Financial Standards Reporting Council of South Africa. Suresh was the CEO and Senior Partner of PwC Africa until his retirement on 30 June 2015.
Ashley (Oshy) Tugendhaft
(70)
Deputy chairman
BA, LLB
Further information
Oshy is the Senior Partner of Tugendhaft Wapnick Banchetti & Partners, a leading Johannesburg niche law firm. He is also a non-executive director and chairman of Alviva Holdings Limited. He was appointed to the board in April 1998 and as deputy chairperson in March 2008.
Roderick John Alwyn Sparks
(59)
Lead independent director
BCom (Hons), CA(SA), MBA
Further information
Roddy is a former managing director of Old Mutual South Africa and Old Mutual Life Assurance Company (SA), and the former chairperson of Old Mutual Unit Trusts, Old Mutual Specialised Finance and Old Mutual Asset Managers (SA). He is a non-executive director of Truworths International, the lead independent director of Trencor and chairs the board of advisers of the UCT College of Accounting. Roddy is the lead independent director and was appointed to the board in August 2006.
Thembisa Skweyiya
(45)
BProc, LLB (Natal), LLM (Harvard), HDip Tax (Wits)
Further information
Thembisa is an admitted attorney to the New York State Bar, USA.
She is the past chairperson of Ukhamba Holdings, an empowerment shareholder in Imperial. She is currently a director of Rothschild South Africa (Proprietary) Limited, Famous Brands Limited, Skweyiya Investment Holdings and Sumitomo Rubber South Africa. She was appointed to the board in November 2009.
Peter Cooper
(62)
BCom (Hons), HDip (Tax), CA(SA)
Further information
Peter is the immediate past CEO of RMB Holdings Limited (RMH) and Rand Merchant Investment Holdings Limited (RMI). His early career was in the financial services sector, first as a tax consultant and later specialising in corporate and structured finance with UAL Merchant Bank. He joined Rand Merchant Bank in 1992 as a structured finance specialist and transferred to RMB Holdings in 1997, where he was appointed to the board in 1999. He continues to serve as a non-executive director of RMH, RMI, OUTsurance and MMI. He was appointed to the board on 24 February 2015.
Graham Wayne Dempster
(63)
BCom, CTA, CA(SA), AMP (Harvard)
Further information
Graham was an executive director of Nedbank Group Limited and Nedbank Limited and retired in May 2014 with over 30 years' service in the Nedbank Group. He is a non-executive director of listed companies AECI, Sun International, Telkom and the chairman of Long4Life. He was appointed to the board on 24 February 2015 and is a member of the audit and investment committees.
Phumzile Langeni
(44)
BCom (Acc), BCom (Hons), MCom
Further information
A stockbroker by training, Phumzile is executive chairman of Afropulse Group Proprietary Limited, non-executive chairman of the Mineworkers Investment Company Proprietary Limited and Primedia Holdings. Phumzile also serves as an independent non-executive director on some companies listed on the JSE, among others Massmart Holdings Limited and Redefine Properties Limited. Phumzile was appointed on 16 April 2018 by His Excellency Cyril Ramaphosa, the President of the Republic of South Africa, as one of four special investment envoys tasked with raising US$100 billion over a five-year period. Phumzile previously served as an economic adviser to the former Minister of Minerals and Energy, Ms BP Sonjica. Phumzile was appointed to the board in June 2004.
Mohammed Valli Moosa
(61)
BSc (Mathematics)
Further information
Valli is a non-executive director of Sappi and a non-executive chairman of Anglo Platinum and Sun International. He is a director of Lereko. Previously, he was president of the International Union for the Conservation of Nature and the chairman of Eskom, and served as a cabinet minister in the national government of South Africa from 1994 to 2004. He is also the chairman of WWF (SA). Valli was appointed to the board in June 2005.
EXECUTIVE DIRECTORS
Mohammed Akoojee
(39)
Acting group chief executive officer and chief financial officer
BCom Acc (Hons), CA(SA), CFA
Further information
Mohammed is the group acting CEO and CFO. He was appointed CFO on 1 March 2017. He joined the group in 2009, and previously served as CEO of the Logistics African Regions division and executive director responsible for mergers, acquisitions, strategy and investor relations for the group. On conclusion of the proposed unbundling, Mohammed will succeed Marius Swanepoel as CEO of Imperial, which will be renamed Imperial Logistics, with effect from 1 July 2019.
Prior to joining Imperial in 2009, Mohammed worked within the corporate finance and investment banking team at Investec Bank. Prior to joining Investec, Mohammed worked for Nedbank Securities as an equity analyst.
Marius Swanepoel
(57)
CEO: Imperial Logistics


BCom Acc (Hons)
Further information
Marius Swanepoel is the CEO of Imperial Logistics effective July 2016; after being CEO of Imperial Logistics Africa since October 2005. Marius Swanepoel will retire as CEO in June 2019 and will remain as director to December 2019. Marius Swanepoel joined the group in 1994 when Imperial acquired Highway Carriers, where he served as financial director. In May 2007, he joined the Imperial executive committee and was appointed to the Imperial board in November 2009. Marius began his career with the South African Revenue Service in Cape Town after completing his articles at auditing firm Brink, Roos & Du Toit.
Osman Suluman Arbee
(59)
CEO: Motus


BAcc, CA(SA), HDip Tax
Further information
Osman was appointed the CEO of Motus on 1 March 2017.
Osman has been with the Imperial Group since September 2004. During this period, he has been the CFO of Imperial Holdings, CEO of the then Car Rental and Tourism division, and the chairperson of the Aftermarket Parts and the Automotive Retail divisions.
Osman is a member of various Imperial subsidiary and divisional boards, including the UK and Australia, chairman of the Imperial Medical Aid Fund and a trustee of the Imperial and Ukhamba Community Development Trust.
He was appointed to the board in July 2007 and served as CFO of Imperial Holdings from 1 July 2013 to 28 February 2017.
Prior to joining the group, Osman was a senior partner at Deloitte and spent 23 years with Deloitte in various roles, which included being a board and executive committee member.
Board succession and appointment
Directors are appointed based on their skills, experience and expected level of contribution to, and impact on, the activities of the group. The board decides on the appointment of directors based on recommendations from the nominations committee. New directors are formally inducted to facilitate their understanding of the group.
Non-executive director tenure
The role of the chairman is to set the ethical tone of the board and to ensure that the board remains efficient, focused and operates as a unit. The chairman is an independent non-executive chairman, whose role is clearly defined and separate from that of the CEO through the provisions of the board charter.
The chairman provides overall leadership to the board without limiting the principle of collective responsibility for board decisions.
The responsibility for the executive management of the group's operations vests with the CEO who reports to the board on the group's objectives and strategy. The CEO is accountable to the board and consistently strives to achieve the group's goals within the framework of delegated authority.
While the board may delegate authority to the CEO in terms of the board charter, the separation of responsibilities is designed to ensure that no single person or group can have unrestricted powers and that appropriate balances of power and authority exist on the board.
Changes to the board in F2018
Messrs Raboijane (Moses) Kgosana and Younaid Waja resigned as independent non-executive directors of the Imperial board and from the various sub-committees and subsidiaries on which they served on 8 September 2017 and 13 October 2017, respectively. Mr MP de Canha retired from the board on 31 January 2018.
Mr MJ Lamberti resigned as group CEO and as a member of the board with effect from 30 April 2018. Mr OS Arbee was appointed as group CEO with effect from 1 May 2018, in addition to his position as CEO of Motus.
Mr Arbee is currently on medical leave and is expected to return to work in January 2019 to continue his role as CEO of Motus. Consequently, Mr M Akoojee was appointed acting group CEO in addition to his role as the CFO until the conclusion of the unbundling. Mr OJ Janse van Rensburg was appointed acting CEO of Motus in addition to his role as Motus CFO during Mr Arbee's absence.
Changes to the board post the proposed unbundling
Messrs SP Kana, MV Moosa and A Tugendhaft will retire at the upcoming annual general meeting (AGM).
The current deputy chairman, Mr A Tugendhaft has served on the board and various committees since 1998. During this time he provided invaluable advice and wisdom to the board and management which saw the group grow from its listing to its present day size. He will join the board of Motus on the unbundling.
Mr Moosa, served with distinction for the past 13 years, since his initial appointment as representative of Lereko Mobility in 2005.
The current chairman, Mr SP Kana, joined the board in 2015 and has indicated that his commitment to Imperial would end upon the culmination of the strategy of the group in unbundling. He provided guidance and important leadership in the period during which the business underwent significant restructuring and management changes.
The board thanks Messrs Kana and Moosa for their contribution to the company and wishes them well in their future endeavours.
Governance in action
During the year the board held eight meetings, including the annual strategy meeting. The key focus areas for F2018 included:
Execution of the key strategies approved in previous years.
Group restructuring.
The proposed unbundling of Motus.
Divisional performance against targets.
CEO succession.
Board performance and review.
Reviewed the company secretary and confirmed his competence.
Board committees and attendance
Board meeting attendance
Board meetings
Meetings (including three special meetings)
Annual strategy meeting
Independent
Appointment
Total meetings
7
1
Chairman and deputy chairman
SP Kana (chairman)
7
1
Yes
September 2015, appointed chairman in November 2015
A Tugendhaft
7
1
No
April 1998
Lead independent director
RJA Sparks
7
1
Yes
August 2006, appointed lead independent director in 2014
Non-executive directors
P Cooper
7
1
Yes
February 2015
GW Dempster
7
1
Yes
February 2015
RM Kgosana1
2/2
1
Yes
September 2015
P Langeni
6
1
Yes
June 2004
MV Moosa
7
1
No
June 2005
T Skweyiya
7
1
Yes
November 2009
Y Waja2
2/2
1
Yes
June 2004
Executive directors
MJ Lamberti3
5/5
1
No
March 2014
M Akoojee
7
1
No
March 2017
OS Arbee
7
1
No
July 2007
MP de Canha4
3/3
1
No
November 2002
M Swanepoel
7
1
No
November 2009
| | |
| --- | --- |
| | |
| 1 | Resigned from the board on 8 September 2017. |
| 2 | Resigned from the board on 13 October 2017. |
| 3 | Resigned from the board on 30 April 2018. |
| 4 | Retired from the board on 31 January 2018. |
Board committees
The board has established a number of sub-committees, including statutory committees, all of which operate within written terms of reference.
The performance of each committee is regularly assessed in accordance with their terms of reference. No instances of non-compliance were noted.
The following tables outline the board sub-committee responsibilities and memberships at the time of publication.
Audit committee

Responsibility

Total meetings
4

Assists the board in its responsibilities, covering the internal and external audit processes for the group, taking into account the significant risks, the adequacy and functioning of the group's internal controls and the integrity of financial reporting.

Chairman Members
RJA Sparks
4
Invitees
SP Kana
GW Dempster
4
A Tugendhaft
T Skweyiya
4
M Akoojee
P Lan
4
OS Arbee
G Nzalo
R Mumford
BJ Francis
JG de Beer
OJ Janse van Rensburg
Risk committee

Responsibility

Total meetings
4

Sets the group risk culture, framework and strategy and ensures that robust risk management processes are in place.

Chairman Members
P Langeni
4
Invitees
JG de Beer
M Akoojee
4
OJ Janse van Rensburg
OS Arbee
4
BJ Francis
SP Kana
4
G Nzalo
F Seedat
Remuneration committee

Responsibility

Total meetings
3

Advises and guides the board on director remuneration, setting and implementing remuneration policy, approval of general composition of remuneration packages and criteria for executive bonus and incentive awards and administration of share-based incentive schemes.

Chairman Members
RJA Sparks
3
Invitees
OS Arbee
SP Kana
3
M Akoojee
P Langeni
3
A Tugendhaft
3
Nomination committee

Responsibility

Total meetings
4

Provides advice and guidance on succession planning, director appointments and director induction and training.

Chairman Members
SP Kana
4
Invitees
OS Arbee
P Langeni
3
M Akoojee
RJA Sparks
4
A Tugendhaft
4
Social, ethics and sustainability committee

Responsibility

Total meetings
4

Assists the group in discharging its social, ethics and sustainability responsibilities and implementing practices consistent with good corporate citizenship.

Chairman Members
MV Moosa
4
Invitees
OS Arbee
T Skweyiya
4
BJ Francis
SP Kana
4
R Levin
A Tugendhaft
4
MR Sharfuddin
M Swanepoel
Assets and liabilities committee

Responsibility

Total meetings
4

Responsible for implementing best practice asset and liability risk management policies. Its primary objective is to manage the liquidity, debt levels, interest rate and exchange rate risk of the group within an acceptable risk profile.

Chairman Members
GW Dempster
4
Invitees
R Mumford
M Akoojee
4
WF Reitsma
OS Arbee
4
RJA Sparks
4
M Swanepoel
Investment committee

Responsibility

Total meetings
1

Responsible for reviewing significant transactions and matters of a strategic nature.

Chairman Members
P Cooper
1
Invitees
G Nakos
M Akoojee
1
OS Arbee
1
GW Dempster
1
SP Kana
1
RJA Sparks
1
M Swanepoel
1
Divisional boards

Responsibility

Exercise oversight of assets and control performance within the bounds of Imperial's board-approved strategies and budgets through two operating divisions, Imperial Logistics and Motus.

Members

More information on divisional board membership and governance can be found in the Imperial Logistics and Motus sections respectively.