Group chief executive officer's review
For Imperial, as the parameters of our business context are redrawn by global vulnerabilities, market opportunities and stakeholder expectations that favour our strategic positioning and intent, our aim is not merely to survive; we intend to differentiate ourselves, and to thrive. Our strategic progress and resilient performance make this more than a dream. It is a reality that is already taking shape.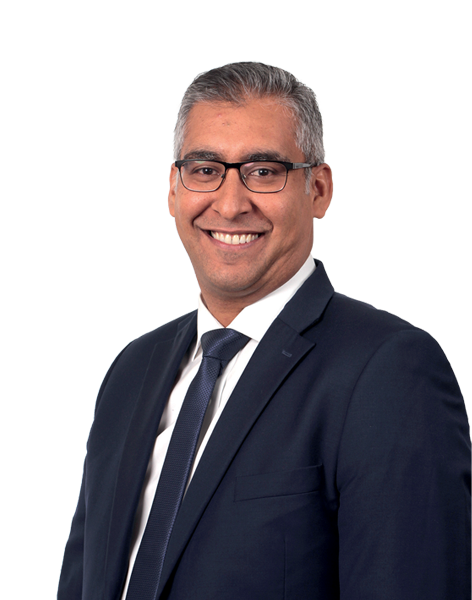 Mohammed Akoojee
Group chief executive officer
Delivering on our promise
Three years ago, before the irrevocable and accelerated shifts that came with the COVID-19 crisis, Imperial was a fundamentally different business to the one it is today. Fresh out of the unbundling of Motus, and standing on our own for the first time, it was clear that Imperial required a fundamental strategic transformation.
Our success meant focusing our business more precisely on our core competitive advantages; our survival, on repairing and exiting loss-making operations. We needed to restructure the organisation; to operate less in silos and more on the merits of our core, combined capabilities as 'One Imperial'. We needed to connect a portfolio of regional businesses and inspire our people with a clearly defined purpose; to focus the group on a strategy that positioned us for sustainable growth. We needed to change the mindset of our management teams; to supplant a traditionally short-term focus on financial performance with a long-term focus on profitability, the good of our people and the protection of our planet. We needed to commit significant capital to becoming a digitally enabled, innovative business; one far more client-centric and commercially minded.
In short, we needed to get to grips with, plan for and make tough trade-offs with a far bigger picture in mind; we needed to do this to make good on our promise to unlock and deliver sustainable value for our stakeholders.
The detailed priorities I set at the time were to swiftly address operational challenges - to turn around or exit, in an orderly way, loss-making businesses; to clearly define our strategy - one that leveraged our strengths and deepened our competitive advantages as 'One business, one brand'; to establish a digital and innovation strategy - one that was achievable, secured our competitiveness and created new revenue streams; to become an employer of choice with a differentiated people proposition - rooted in the right values and with a supportive skills and talent development plan.
I clearly stated that while short-term financial performance would remain crucial, our focus as management should always be on our longer-term strategic direction and our vision to become the 'Gateway to Africa' an internationally acclaimed Tier One provider of outsourced value-add logistics, supply chain management and route-to-market solutions; our daily operational and financial decisions and actions should reflect this.
These priorities were a lot to ask of leadership and management teams, and our people, even before COVID-19 struck. But reflecting on the strategic outcomes and financial results we show in the 2021 financial year, I am proud of the strategic actions we took to reorganise, restructure and simplify the business, to improve profitability and competitiveness, to strengthen our balance sheet, generate cash and deliver strong growth. We were also able to meet the commitments I made to the board and shareholders in a very short time under unprecedented circumstances.
We can look back on these tough calls and say they were worth it. Our plans worked out, and we have unlocked significant value for our key stakeholders, despite the impact of COVID-19 across our operations. I can also say, that had we shied away from what we needed to do and not moved fast enough, we would be reflecting on a different outcome in this year's integrated report.
I believe the DP World offer bears testament to the strategy we chose to pursue in 2019, and our strong presence, positioning, capabilities and networks in key markets in Africa and Europe (including the UK). If approved, the deal will unlock further substantial value for our shareholders and our people.
Delivering measurable strategic progress
Imperial continues to record significant progress in its strategic journey to transform from a portfolio of regional businesses to an integrated end-to-end market access and logistics business, with committed and well-skilled executive management teams across the group. Despite the pressure that COVID-19 has put on our day-to-day operations, we have:
Strengthened our positioning as the 'Gateway to Africa' and 'One Imperial'.
Assessed, fixed and exited non-core, low return on effort and underperforming businesses.
Simplified and reduced complexity.
Bolstered our financial position.
Significantly reduced costs.
Restructured to operate based on capabilities, with focused commercial teams in place.
Won new contracts.
Concluded strategic acquisitions.
Made good progress in digital, IT and innovation initiatives.
Made good progress on our people and ESG pillars as core enablers of our strategy.
Defined our path as a transformational organisation rather than a transactional one.
I provide more detail on these achievements later in my review. Top of mind in the coming years will be to ensure that Imperial remains a business of scale, despite large asset disposals and deep restructuring, and that both organic and acquisitive growth are priorities. We are ably navigating challenging macroeconomic conditions, giving us headroom to invest in growth and in accelerating our key strategic initiatives to support it.
Considering the DP World offer
The DP World offer to acquire Imperial was put to shareholders for approval at the general meeting on 17 September 2021, with the requisite majority of shareholders voting in favour of the transaction. The proposed transaction is still subject to other customary completion conditions, including regulatory approvals, which are in progress. In the interim, we continue with business as usual.
I believe the DP World transaction, if concluded, will enable us to build on our 'Gateway to Africa' strategic and growth ambitions. It will be value-enhancing for Imperial as we will benefit from DP World's leading technology, global networks and key trade-lane volumes. Combining DP World's world-class infrastructure, specifically its investment and expertise in ports in Africa and Europe, with Imperial's logistics and market access platforms will support our integrated end-to-end solutions along key trade lanes into and out of Africa, and strengthen our position in Europe. This will enable us to achieve greater supply chain efficiencies, ultimately enhancing value for our clients, principals and customers and indeed the continent as it seeks meaningfully higher growth and socioeconomic development.
Stakeholders may have noticed in the market announcement about the offer that DP World's ambition, as an enabler of global trade, is to lead a revolution in sustainable logistics. In my view, the complementarity of the two businesses is neatly summed up in this phrase. Imperial, over the last three years, has proven itself to be at the centre of sustainable logistics on the African continent. Together, if this deal is approved, we can accelerate the realisation of a foundation stone of our purpose: to connect Africa and the world.
Delivering meaningful value
The other foundation stone of Imperial's purpose speaks to our critical role in improving people's lives with access to quality products and services. Our aim as a purpose-driven organisation is to prioritise people, profit and planet – amplified through our actions and initiatives to support our communities and countries of operation. Across 25 countries, we take a holistic approach to creating and protecting value not only for Imperial but also for other stakeholders in the value chain, and the communities and countries we serve; as a provider of essential goods, a partner to clients and principals in optimising vital industry supply chains, and in the social good we do as a corporate citizen.
I am pleased to advise that in F2019 and F2020, Imperial created value of R146 billion and R98 billion for its stakeholders and communities in Nigeria and South Africa respectively, as confirmed by a recent socioeconomic impact assessment study undertaken by Accenture.
Imperial continues to record significant progress in its strategic journey to transform from a portfolio of regional businesses to an integrated end-to-end market access and logistics business.
During the past 12 to 18 months, we undertook and concluded a comprehensive organisational redesign process to enable the business to operate more effectively as 'One Imperial', with the associated synergies and benefits.
Our people
Throughout the COVID-19 pandemic our priority remains to protect our people from infection and shield our operations from the many implications of loss of skills and productivity, as well as morale. The relevant health and safety protocols across our operations remain stringently in place. We also continue to support our people through ongoing communication campaigns addressing pertinent social issues such as mental health and gender-based violence, for instance, through our She and He Heroes (SHEROES) COVID-19 support groups, and continuing to pay salaries.
It is heartening that no jobs were lost at Imperial as a result of the pandemic. Most of our employees who tested positive for COVID-19 have fully recovered. Sadly, 24 of our colleagues succumbed to the virus and we extend our deepest condolences to their loved ones. The latest wave of infections had a more direct impact on our people, with an increase in sick leave, which affected our operational effectiveness. It also added costs.
Imperial's Garfield Road site in Alberton, Johannesburg was approved as a COVID-19 vaccination site for a week in August 2021 as part of a campaign by the National Institute of Occupational Health (NIOH). We were able to provide access to vaccinations for our employees in Gauteng and we are currently in consultations with the NIOH to offer the same service at Imperial sites in other provinces in South Africa. Jacob Mamabolo, Gauteng MEC for Public Transport and Road Infrastructure visited the site and extended his thanks for the role that Imperial is playing in the safety of its people and in 'keeping the wheels turning' for South Africa's economy.
Two provinces in South Africa, KwaZulu-Natal and Gauteng, were badly affected by the spate of unrest in July 2021. Unfortunately, some of our trucks in KwaZulu-Natal were vandalised or burned, and there were attempts by rioters to enter and vandalise several of our warehouses. To ensure the safety of our drivers and employees, and reduce the risk of harm to our people and assets, we grounded our fleet and operations in high-risk areas for six days during the peak of the unrest, and increased security at warehouses in high-risk areas. We subsequently resumed operations when it was safe to do so. In Germany, certain of our operations were impacted by severe flooding. We partnered with clients to provide relief initiatives for affected employees and families.
Our people proposition centres on collaboration to give effect to our 'One Imperial' positioning. During the past 12 to 18 months, we undertook and concluded a comprehensive organisational redesign process to enable the business to operate more effectively as 'One Imperial', with the associated synergies and benefits. Imperial's structure is now based on capabilities, with centre-led functions to drive more effective collaboration and focused commercial structures to drive cross-selling across our businesses.
Although I worry about the extensive change that our people have dealt with in the last three years, and the 'change fatigue' they are feeling – quite apart from the latent stress that has come with the human suffering and economic implications of the pandemic – I am confident we are supporting them in every possible way. Our change management programmes are designed to gain their buy-in to the reasons for and benefits of our strategic transformation, but also to inculcate resilience to change, which is and will remain a feature of today's business and social environment.
We made strong strides in our people and culture journey and are embedding our values across the organisation. People are our greatest asset at Imperial and despite the unprecedented change and challenges our people have experienced, our firm intent has been to take our people on our 'One Imperial' journey with us. Testament to our progress is found in our recent Barrett survey results, which were most pleasing despite the external pressures our people have faced. The findings indicated meaningful improvement in the culture and organisational health of Imperial since the last survey a year ago. Beside the scores, I am always particularly interested in the direct feedback, and was delighted that in the main our people agree that they are far more engaged and collaborative than they were 12 months ago.
Our commitment to diversity is unwavering and our goals are appropriately firm. While there is still work to do in achieving our gender and diversity targets, we significantly improved the diversity of the leadership team: five out of 10 Logistics Africa Exco members are female and six out of 10 are non-white. We have also improved our female gender ratio for top and senior management to c.29% in F2021 from 24% in F2020. Our target is to improve this ratio to 33% for F2022. Imperial is proud to be the winner of the 'Women Empowerment in the Workplace' award for listed companies in Southern Africa in the Accenture 9th Gender Mainstreaming Awards. For the second consecutive year, Imperial was recognised as one of the top companies that South African students most want to work for. In a survey conducted by the South African Graduate Employers Association that attracted responses from over 2 000 candidates, we were placed as the runner-up in the transport/logistics sector for 2021.
The annual scorecard audit process commenced in June 2021 with AQRate verification agency. Pleasingly, we maintained our Level 2 B-BBEE status for the Road Freight Scorecard and anticipate improving to Level 3 from Level 4 for the Department of Trade, Industry and Competition's (dtic) Generic scorecard.
Our shareholders
In F2021, we delivered double-digit growth in revenue, EBITDA and operating profit, with CHEPS and earnings per share (EPS) up more than 200%. This performance was achieved despite significant disposals (European and South American shipping); the continued impact of COVID-19 across our operations and significant investment and management attention given to key strategic initiatives. We exited loss-making Pharmed and cut fixed overhead costs in Logistics Africa by c.R200 million (annualised) during the year. Our operating margin from continuing operations increased to 4,5% in F2021 from 3,1% in the prior year.
To ensure that Imperial remains a business of scale, and in line with our 'Gateway to Africa' positioning, we announced two material strategic acquisitions, J&J and Deep Catch Holdings in Logistics Africa and Market Access respectively. Both these businesses give us access to new capabilities and new markets on the continent, and strengthen our position as a leading integrated provider of market access and logistics solutions in Africa. While these acquisitions, particularly J&J, require substantial investment, their quality of earnings is attractive and we have sufficient balance sheet capacity to fund them, while still remaining well within our banking covenants.
Once concluded, the DP World transaction will result in significant value unlock for our shareholders at an offer price of R66 per share, a premium of 39,5% to the Imperial share price at 7 July 2021 (the day prior to the firm intention announcement) and a 20% premium to the Imperial share price on the unbundling of Motus in November 2018.
Our clients, principals and customers
Throughout the COVID-19 pandemic, we have kept the wheels turning for our clients, principals and customers, delivering excellent service. Our relevance as a partner to our clients' and principals' in understanding how to optimise their supply chains and their customer propositions, and to provide the data to do so, is reflected in our strong renewal rate of 88% on existing contracts for the year, and a strong pipeline of new opportunities. New business revenue of approximately R5,9 billion p.a. was secured on a rolling 12-month basis to the end of June 2021.
Imperial is on a journey to position itself uniquely and we are engaging clients and principals in a more collaborative and creative manner, as we integrate and cross-sell our commercial and digital capabilities. Our client and principal value proposition is centred on selling as 'One Imperial' to leverage cross-selling and upselling opportunities. Part of our organisational redesign implemented focused on creating effective commercial structures to achieve these benefits and generate new business opportunities. In F2021 we started to see tangible results, with positive feedback from our clients and principals.
Our B-BBEE transaction became effective on 30 July 2021, underlining our commitment to sustainable empowerment and transformation. Imperial Logistics South Africa is now effectively more than 51% black-owned and more than 30% black woman-owned, deepening our relevance and competitiveness, and that of our clients. The transaction is a big step forward in improving the B-BBEE credentials of our South African operations, which is critical for the future prospects of the entire group given our leading position in the South African market as part of our 'Gateway to Africa' strategy.
Our communities and countries of operation
Our focused investments in supporting the socioeconomic wellbeing of our countries and communities has been demonstrated throughout the COVID-19 pandemic. In F2021, we invested R24,2 million in communities through strategic CSI initiatives across regions focusing on healthcare, education, safety and skills development (F2020: R21,2 million).
Imperial is well positioned to provide logistics and distribution capabilities to accelerate the COVID-19 vaccines programmes of governments in South Africa and other African countries. In April 2021, Imperial was granted approval to import COVID-19 vaccines into South Africa, as part of the National Department of Health's vaccine distribution campaign, together with Biovac. The contract runs until December 2022, and we will tender for further import tenders as they become available. Our capabilities enable us to safely and effectively transport, store and distribute vaccines. We have set up a task force across our Market Access and Logistics Africa businesses to ensure that we can participate in the distribution of these vaccines as these opportunities arise.
To play our part in rebuilding South Africa after the recent social unrest in Kwa-Zulu Natal and Gauteng, in addition to supporting our employees and their families, we made a cash donation totalling R4 million to humanitarian and donor organisations.
As a crucial role player in the South African and other African economies, I invest considerable time ensuring that Imperial has a seat at the table and a credible voice in various leading business and industry associations. I am a 'CEO Champion' in the NBI Just Transition Pathways Project focusing on expediting a Green-Stimulus strategy as part of South Africa's COVID-19 response, and developing an ambitious, fact-based and unified business view ahead of COP26 in November 2021. I am also pleased to advise that Imperial was appointed as a strategic partner to the World Economic Forum (WEF) and Risk Insights as part of the WEF New Champions Chapter in South Africa. This initiative forms part of The World Economic Forum's New Champions Community, which mobilises and capacitates corporate leaders from mid-sized companies to join the cause to improve the state of the world.
Digital, IT and innovation
Digital and IT is key to transforming Imperial. It enables our growth aspirations by providing systems and enabling insights that support business and functions, and facilitates access to new value propositions and revenue streams. It also enables us to build partnerships across our ecosystem, and to identify, pre-empt, integrate and own potentially disruptive technologies. The Imperial Venture Fund was set up to ensure ongoing investment in our digital and data initiatives and now actively manages nine portfolio companies.
Significant strides are being made in advancing our digital and IT function and capabilities, to enhance our operations and service offerings to our clients and principals, and maintain our competitive edge across key markets. Several key appointments were made into the centre-led digital and IT structure in the last year. We have developed enterprise architecture roadmaps for our business units and are standardising our IT platforms. Excellent progress has been made in establishing our base for data-driven decision making through our business performance insights platform.
ESG
During the year, we completed a detailed ESG strategy for the group, approved by the board in May 2021. Our ESG strategy is made real in the organisation by focused ESG targets, and we expect it to strengthen our competitive positioning on the African continent considerably. Our focus is now on change management and implementation, with detailed KPI dashboards being developed. We are also partnering with clients on implementing new green logistics initiatives, for example, green hydrogen and LNG.
Significant time and resources are dedicated to ensuring that our women's forum initiatives are rolled out and extend across our operations. We launched our Women's Roundtable in August 2021, an initiative of the Global Women's Forum. This initiative aims to further upskill women at Imperial by focusing on key topics, such as eliminating unconscious bias, creating a personal brand, and leading with purpose. We believe that collective and collaborative engagement on these key topics in a safe, inclusive and honest forum will help in developing women at Imperial. Our first cohort comprises 59 women from across the organisation.
Focused on the bigger picture
With our purpose, which has been crystallised and proven to be not only inspirational to our people, but critical to the wellbeing and development of the economies and societies in which we operate; our clearly defined strategy, which will secure our relevance on a continent with compelling long-term potential; and with our organisational structure, and the significant investments we are making in our key strategic enablers, aligned to our ambitions; Imperial is strongly positioned for growth well beyond the pandemic. Our management teams remain focused on and committed to delivering on the financial, operational and strategic objectives we have set, despite the macroeconomic and socio-political uncertainties.
Imperial's robust financial position, and strong balance sheet management – also proven in the last two years, provide comfortable headroom in debt capacity and liquidity. This will enable us to fund our strategic growth aspirations despite the constraints of the prevailing market conditions.
The strides we are making towards our 'One Imperial' and 'Gateway to Africa' strategy, in addition to 'business as usual' initiatives, are delivering tangible results. While we have much still to do, and considerable uncontrollable risks remain, we are acutely focused on positioning Imperial for growth and sustainability well into the future.
We have a strong pipeline of new business opportunities that we are translating into new business. One of the most exciting shifts for me in the last year has been the tenor of the conversations we are having with our clients and principals. Whereas historically – as recently as before the pandemic illuminated the criticality of uninterrupted supply chains, and the vulnerabilities that global supply chains impose on African countries with weak manufacturing capacity – clients and countries are understanding how contingent their survival and success is on effective, resilient and shorter supply chains; and how important it is to ensure they are operating optimally, with end-to-end visibility of not only their own, but also the extended linkages into and across their industry value chains.
As we progress with our digitisation, and match this with the analytical skills we need to turn deep data into rich insights and commercial opportunities, overlayed on our extensive African network and asset-right capabilities, we have never been better able to assist our clients and principals to achieve these imperatives. We can now, with growing confidence, move our conversations with them from a purely cost and procurement focus, to far more meaningful and strategic discussions with business leaders. With global frameworks focusing on accountability for ESG imperatives, deep into the supply chains of our clients, the possibilities for our own differentiation and legitimacy, and for the licences to operate of our clients and principals in African and European markets, give these conversations added weight.
The strides we are making towards our 'One Imperial' and 'Gateway to Africa' strategies, in addition to 'business as usual' initiatives, are delivering tangible results. While we have much still to do, and considerable uncontrollable risks remain, we are acutely focused on positioning Imperial for growth and sustainability well into the future. Our strategic actions and initiatives position us uniquely to realise the commercial opportunities, and drive the socioeconomic and environmental development objectives, of Africa.
I am truly proud of the Imperial of today and what we have achieved together. My deepest thanks to our people, shareholders, board, my executive colleagues and other key stakeholders for taking this journey with me, and for your trust in our ability to demonstrate how valuable Imperial is and can still be. While our journey since 2019 has not been easy, it has certainly been fulfilling. An exciting path lies ahead for Imperial, and I will continue to seek your support to take our business 'beyond possibility'.
Mohammed Akoojee
Group chief executive officer