Group chief financial officer's review
Imperial delivered excellent results for F2021, with a strong recovery in volumes and profitability compared to F2020. This was despite the ongoing impact of COVID-19 on our people, operations and markets. Our financial performance is testament to the significant investment of capital and management attention in our journey to transform the group into 'One Imperial' and strengthen our positioning as a 'Gateway to Africa', which included major corporate action in the year. George de Beer
Group chief financial officer
Overview
Our strategic journey is well underway. We have moved the group from being an owner of a portfolio of regional businesses, run on a decentralised management model, to a capability based and solutions orientated 'One Imperial'. In line with our strategic intent, we undertook significant corporate action and made portfolio changes during the year. The businesses we disposed of freed up the capital we needed to enter into strategic material acquisitions of businesses that are aligned to our 'Gateway to Africa' aspiration.
Although our strategic transformation is still a work in progress, the strides we have made in the last two years have begun to show in the numbers.
Our results demonstrate Imperial's resilience in persistently tough conditions and reflect strong underlying operational recoveries and performances for the year. Revenue, excluding businesses held for sale, grew by 14% to R51,7 billion, up from R45,3 billion in the prior year. A recovery in volumes across most of our businesses as COVID-19 lockdown restrictions eased in key markets, complemented by new business gains and acquisitions, were the main drivers of this pleasing top-line growth.
However, our consumer businesses exposed to liquor and tobacco sales in Africa felt the impact of ongoing lockdown restrictions, and semi-conductor shortages hampered our operations in the automotive sector in Europe. Continuing operating profit, excluding businesses held for sale, rose by 59% from R1,5 billion in the prior year. While the impact of COVID-19 on our operations this year has not been as severe as in F2020, we estimate that the implications of the pandemic took c.R2,6 billion and c.R346 million off revenue and operating profit, respectively, in F2021. Excluding this impact, we estimate that revenue would have increased by a further 9% and operating profit by 7% (on a like-for-like basis).
We kept our focus on closely managing our cash flows, reducing overhead costs and maintaining our capital position during the year. This allowed us to navigate the ongoing uncertainty and to manage down the impact of COVID-19 on our results. It gave us the financial capacity to drive commercial opportunities, supported by progress on our 'One Imperial' strategic transformation, which added revenue from continuing operations and generated good free cash flow.
Key features
Revenue*
13%
to R52 208 million
EBITDA*
22%
to R4 986 million
Operating profit*
60%
to R2 336 million
HEPS
218%
to 334 cents per share
EPS
more than
100%
to 512 cents per share
Continuing Core EPS**
215%
to 448 cents per share
Strong free cash inflow from continuing operations excluding CPG of
R900 million
Continuing free cash conversion of
86% improved
(F2020: 72%)
Net debt:EBITDA of
1,3x
(F2020: 2,8x) – well within banking covenants of 3,25x
Interim cash dividend of
83 cents
per share paid. No final dividend declared.
Concluded disposals of the shipping businesses for proceeds of
R4,7 billion
| | |
| --- | --- |
| * | Excludes the discontinued European shipping business and Consumer Packaged Goods (CPG) in the prior period. Includes Pharmed and the South American shipping business. |
| ** | Headline earnings are adjusted by items that are not considered to be of a trading nature to arrive at core EPS. Core EPS is not an IFRS requirement. |
Business revenue
Business operating profit
Revenue*
(Rm)
Operating profit*
(Rm)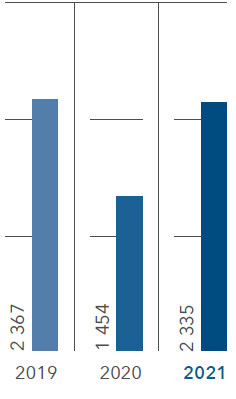 Continuing HEPS
(Rm)
Total assets
(Rm)
Our balance sheet and treasury management across the business have proven to be exceptional. We have reduced debt by c.R3 billion since F2019 (including c.R1 billion utilised to settle CPG onerous contracts and leases), with our net debt: EBITDA for F2021 at 1,3x, well below our internal guideline of 2,5x and well within our banking covenants of 3,25x.
We realised cash of R4,7 billion from the disposals of the European and South American shipping operations and an additional c.R500 million inflow is expected from the successful conclusion of the 25% B-BBEE transaction. Pleasingly, we have ended the 2021 financial year with a good free cash inflow position of c. R900 million (excluding CPG), before paying an interim cash dividend to shareholders and completing share buybacks.
Our ROIC improved significantly to 9,0% (F2020: 4,9%) above WACC of 7,7% (F2020 7,6%).
An interim dividend of 83 cents per share was declared by the board and paid out of income reserves. No final dividend has been declared in line with the DP World proposed transaction.
Our strategic focus
The group's focus on delivering 'One Imperial' by investing in the right structures, processes, systems, people and culture to support our long-term sustainable and profitable growth, is reflected in our intention to transform a historically disparate finance function into One Imperial Finance.
Key objectives for One Imperial Finance are:
Supporting insight-driven decision making powered by right-time data and analytics.
Driving excellence in our finance operations and service provision.
Enhancing financial integrity, risk management and compliance.
The One Imperial Finance Project will shift the group to a future state (illustrated below) where the finance function is a strategic business partner to stakeholders throughout the group, which generates and applies data-backed insights to strategic and operational decision making, within a robust control and oversight system. Our system of financial control and combined assurance has proven solid over the years. However, the removal of manual processes and the deeper visibility and heightened accuracy of a world-class digital management system will strengthen it further.
Finance of the future
Shared services for core common processes
reduces cost to serve across our business
Best-fit technology and automation
reduces manual effort and improve productivity
Harmonised processes across core finance functions,
promotes consistency, reduces risks and improves compliance
Transparency and visibility of financial, and operational data
drives quicker and improved decision making, faster financial close and improved financial compliance
Consolidated solution footprint in cloud
integrates acquisitions and launch new products/services faster to enable growth
The extensive transformation is requiring significant investment in industry-leading technology and, with our strategic partner, Accenture, detailed planning and implementation of phased projects to deliver of the One Imperial Finance initiative across the group. It entails a multi-step journey to achieve our objectives with clear priorities for the short and medium term.
Multi-step journey to finance of the future
Short to medium term
Short to
medium term
Simple
standard sustainable
Blueprint the foundation
Set up shared service centre
COMPLETED
Build the core,
prove with a pilot
Build One Imperial Finance
Pilot shared service centre in South Africa
Standardise for single version of the financial truth
Medium term
Scale
the adoption
Centralise additional functions
Implement advanced analytics and automation
Managed application and cloud outsourcing services
Finance
of the future
Innovation, digitisation and sustainable growth
Touchless finance
FinTech evolution
We completed the foundation phase of work on One Imperial Finance in 2021. This phase of the project focused on designing and approving the shared service 'centres of excellence' operating model that will aggregate all central services on a single business support platform, and building the technology backbone to support the model. Achieving this project milestone has required a total investment of c.R269 million, as well as the time of over 160 people committed to developing the future operating model and embedding the change within the group.
Forward looking capital management and allocation
Optimising our capital allocation approach to achieve our strategy, within our means, covenants and risk tolerances, is crucial to delivering sustainable profitable growth in the long term. We have shifted how we manage our capital significantly, applying forward looking scenario planning and forecasting approach that assesses capital requirements up to 24 months into the future. In the last year, this allowed us to maintain a strong balance sheet despite short-term constraints, at the same time ensuring sufficient investment in our strategic initiatives and that we sequence our priorities wisely to deliver long-term shareholder value creation.
Over the past decade, Imperial's investment in Africa has been focused on building market access capability in the defensive and fast-growing healthcare and consumer industries. During this time, we developed strong expertise, networks, and knowledge of operating successfully in Africa. To achieve our strategic intent to be the 'Gateway to Africa' and a leading integrated logistics and market access provider on the continent, will require further investment in logistics businesses that provide access to freight capabilities to facilitate trade flows into, out of and across key African trade lanes. During the year, therefore, we undertook significant corporate actions and made portfolio changes, in line with our strategic intent. The operations we disposed of freed up the capital that allowed us to enter into acquisitions of businesses that are closely aligned to our strategic intent.
As we move forward, our capital allocation approach will enable us to understand and adequately provide for the capital required to execute our strategic initiatives to become 'One Imperial', and the portfolio changes needed to become the 'Gateway to Africa' through acquisitions and partnerships. Achieving our strategic ambitions will require significant capital investment in digital and data initiatives, technology, and strategic acquisitions, over the next five years. Capital allocation will be prioritised for those areas that amplify our strategic positioning and focus on Africa. This approach will give us the headroom to consider value-accretive opportunities as they arise.
We undertake an extensive due diligence process prior to entering into any acquisitions and ensure that we understand the related risks. Once the transaction has been completed, we then ensure that financial reporting is aligned to the group's standards and expectations. This extends to strong governance oversight and visibility obtained through mature internal financial controls and internal audit procedures that are embedded throughout the organisation.
We are committed to transforming Imperial into an innovative asset-right business that uses data and technology as a differentiator, while bearing in mind that hard assets will always be a necessary part of our supply chains. To get the balance right, we are looking for opportunities to deliver contract logistics and road freight with a lighter asset base. Our Innovation Venture Fund is dedicated to delivering on this aspiration to become more asset right.
The group's liquidity position remains strong with R14,4 billion unutilised banking facilities. Excluding IFRS16 leases, 54% of the group debt is long-term in nature and 36% is at fixed rates. As our ESG strategy gains ground, particularly our ability to demonstrate measurable progress against the global reporting frameworks that investors prefer, we will continue to assess the inclusion of ESG-linked facilities in our capital structure as our facilities come up for renewal. Management is evaluating a number of proposals from banks that incorporate ESG components for green finance facilities.
Outlook and guidance
Many of our markets continue to face uncertainty and volatility, being in various levels of lockdown and restrictions. While some of these restrictions are easing, we anticipate the impact of the COVID-19 pandemic and the ensuing uncertainty to affect our operations and performance in the short term - much of this will depend on the timing and speed of the vaccine roll-out especially in our African markets. We will continue to manage the implications of this while ensuring that we continue to deliver on our strategic objectives.
At this stage, for F2022, subject to stable currencies, steady recovery in volumes and revenue on the back of easing COVID-19 restrictions, and a recovery in economies in which we operate from current levels, we expect Imperial's continuing operations (excluding businesses held for sale) to deliver:
Revenue growth compared to F2021.
Operating profit growth compared to F2021.
Growth in continuing HEPS compared to F2021.
Good free cash flow generation, with free cash conversion expected to be between 70% and 75%.
We will continue to manage our balance sheet to ensure that we have sufficient debt capacity and liquidity to invest in achieving our strategic growth aspirations. Our pipeline of new business opportunities is strong, and we will continue with our efforts to translate this into new business for the group. We will continue to ensure that our acquisitions are swiftly integrated into the group, especially into the One Imperial Finance management and control system. Supported by our capital management and allocation approach, I am confident that we can maintain the strong business momentum of the past year, notwithstanding the financial, operational and market challenges that will persist in our business context.
I extend my heartfelt thanks to the finance teams across the business for ensuring exceptional balance sheet management and driving sound financial processes despite the many challenges, in addition to the time dedicated to the One Imperial Finance Project. I also extend my thanks to our business partners and funders for their continued support.
George de Beer
Group chief financial officer